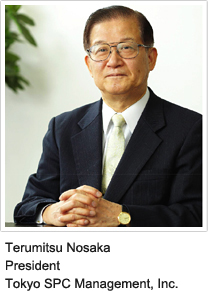 The securitization and structured finances in real estates and debt obligations is widely used now as a direct finance medium with the help of an advanced financial engineering technology. Especially, the securitization involving SPE (that is, Special Purpose Entity) is applied by many entities of not only a private sector but also a public sector such as local governments for its positive features in respect of its off-balance nature and lower structuring cost .
Tokyo SPC Management, Inc. was established in 1999 in this midst of development of the securitization and structured finances ahead of other SPE servicers. Since an establishment, we have grown steadily based upon the corporate policy to make a social contribution as well as an ever-improving our research and investigative skills. Our services have been extended from SPE management services at its various stages such as at initial organization, annually and liquidation and dissolution to control and management of investments by mega funds.
We, Tokyo SPC group entities, are currently reforming ourselves as a boutique for "funds" so as to get our activity base wider as well as to revitalize Japanese economy. As a boutique, we can meet any client requests on "funds" including but not limited to advisory services on funds structuring, an assets appraiser and personnel agency services. We believe that the reformation of ourselves into the boutique wherein clients can satisfy any "funds" needs comprehensively at one-stop (the boutique-type "general funds" service company group) can bring our clients much more conveniences.
We have been certified by CPA's since 2009 under JICPA Audit Standard No86 with regard to the internal control quality of our services to SPE outsourced by its consolidated parents. Furthermore, we have strengthened our overseas network so that we have entered into alliance agreements with Shanghai, Hong Kong and Singapore Companies. We are planning to develop such networking activities in Australia and Mumbai, India.
Tokyo SPC Management, Inc as a core entity of the boutique-type "general funds" company group will make a further evolvement to meet every aspect of "funds" needs of clients who try to obtain its required finances from the ever-evolving financial market.